CUSTOM STOCKDOGS FEMALES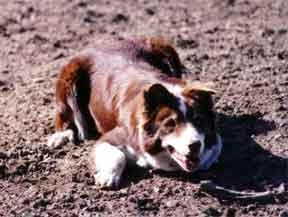 Kuykendall's Salt

Salt was bred by Kenneth Kuykendall from a mating of "Kary" (bred by his father Henry) and Bill Crowe's "Sage". "Salt" was the dam of our foundation females, "Callie" and "Pepper". She was also used by Kent Kuykendall to produce Gwen's "Paige", a wonderful worker who was the dam of Kent's "Bill". Bill won the Purina Outstanding Herding Dog award in 1995.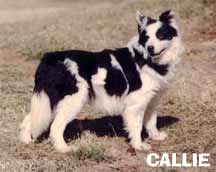 Custom Stockdogs' Callie

Callie is one of our foundation females and is the dam of Custom Stockdogs "Mable". Callie is the first dog Kenneth gave to Joyce. She was very challenging but she was worth it!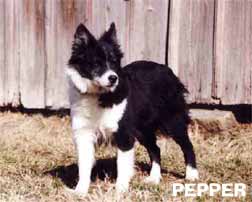 Custom Stockdogs' Peper

"Pepper" was in one of the first litters produced by Custom Stockdogs. She is our other foundation females. "Pepper" is a full sister to "Callie" but had her own way about her. She was always thinking and figuring situations out on her own. We still have people request puppies that go back to "Pepper".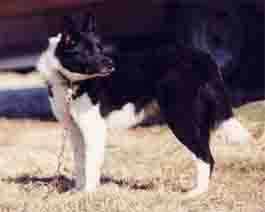 Custom Stockdogs' Magik
"Magik" is a daughter of Peper (shown above) and Imp. Cap
We kept a daughter of Magik and Imp. Coon named "Abby". The offspring of Magik are very tough workers but have the same thinking quality as our original Peper.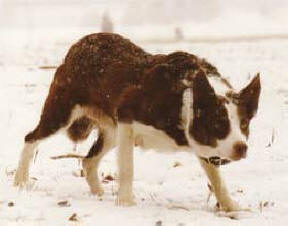 Custom Stockdogs' Mable

"Mable" showing her style and intensity. "Mable" was one of a kind. One of the special dogs that you are privileged to have come into your life. We learned allot from working with her. She also left behind many great offspring. Almost every dog or puppy we sell goes back to her. Everyone that had the opportunity to see her work knows what we are talking about when we say she was special.
"Mable" would work all day and still want to play ball with anyone that would give her the time when she was on a break. When she was needed she would spring into action and forget all about the game she was playing. She was friendly with everyone but protective if she needed to be. She just knew what was needed from her in every situation she ever faced, whether it was in stock or in everyday life.
Mable is shown working calves for the first time. The calves had never been worked before but Mable took care of that!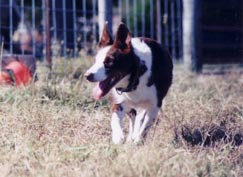 Custom Stockdogs' Kary
"Kary" was the first daughter we had from "Mable". It was also the first time we bred to Imported "Mirk". The first day we saw him we knew we had to breed him to "Mable" and "Kary" was the result. This cross proved to be one that made a lasting impression in our and Kenneth's father, Henry's breeding program. You can still see the influence in our dogs today. Not too far back in all of our present dogs you will find "Mable" and or the Mable, Mirk cross.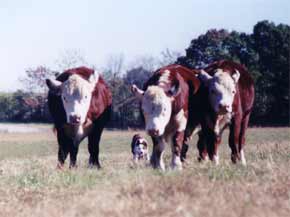 Custom Stockdogs' Gail
"Gail" was a daughter of "Mable" bred to "Imported Mirk". This cross has led to a whole new dimension in our breeding program. We have several outstanding sons and daughters of "Gail".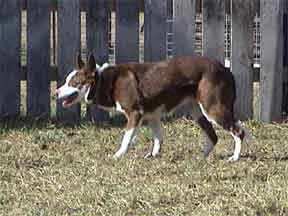 Custom Stockdogs' Kelly

"Kelly" is a littermate to "Gail". She is a great worker as well as producer. She has been used in our demonstrations for some time now. She is the dam of "Custom Stockdogs Ben", described by John Thomas as one of the best dogs he has seen in this country! Ben's littermates are also outstanding for their owners. Henry is crossing "Custom Stockdogs Craig" back into his line with great results and Kent finds "Custom Stockdogs Kate" one of his strongest workers as well as one of his best producers.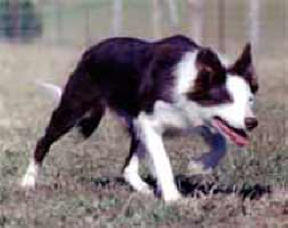 Custom Stockdogs' Luck

"Luck" is another of the "Mable" "Imported Mirk" cross. She has also passed on the greatness of her lines in several of our current performers. Kenneth's favorite is "Custom Stockdogs Buck".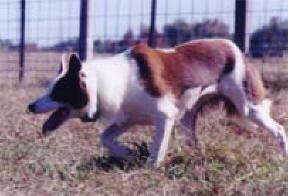 Custom Stockdogs' Perk

"Perk" was produced by mating a "Mable" daughter to "Imported Mirk". She is very stylish and powerful.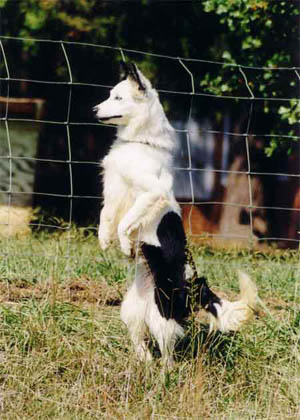 Custom Stockdogs' Kwik

"Kwik" is a daughter of "Luck" and "Imported Coon". She is a real character. She has a great personality and is almost too powerful a worker. We have several of her offspring coming on.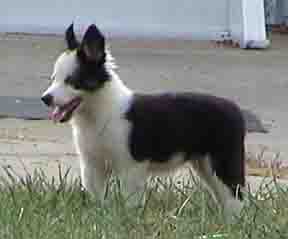 Custom Stockdogs' Dutch
Dutch is a daughter of "Luck" and "Ben"
She is starting her training in stock (winter 06) At this point she is both stylish and powerful. Dutch is a full sister to our popular male "Buck". People can not believe how intense and stylish Buck is when they see him in our Demonstrations. We hope that Dutch follows in his footsteps.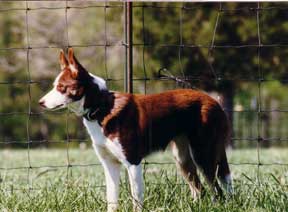 Custom Stockdogs' Red Jet

"Red Jet" goes back to the "Pepper" line and is sired by "Imported Mirk". We have a very promising daughter from her and "Custom Stockdogs Klint".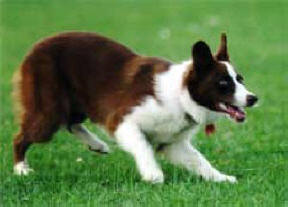 Custom Stockdogs' Mig

"Mig" is a daughter of "Red Jet" and "Klint". She is with me all the time and is becoming a more reliable worker all the time. She has produced some wonderful pups when mated to "Custom Stockdogs Joe".
We bred "Mig" to "Ben" in 2004 and she produced as nice a litter as she did when bred to "Joe". She is the kind that compliments any line she is bred to. She is the proud dam of the perfect puppy, AKA Custom Stockdogs' "Finn". "Finn" is owned by Debbie Willouhgby and we are expecting great things from them as a team.


Custom Stockdogs' Glide
Glide is a daughter of "Joe" and "Gail"
Glide is a very nice worker with an easy attitude. We are looking forward to crossing her lines with "Ben" to continue line breeding to our Foundation Female "Mable".
Custom Stockdogs "Red Pepper"
Pepper is a daughter of "CSD Joe" and "CSD Perk". She is shown here getting back to work after weaning her first litter of puppies. She works with allot of intensity.
Look on the puppy page to see what pups from her litter are available. They are all so nice we are having a hard time deciding which ones we want to keep.

Custom Stockdogs' Judy

"Judy" is a daughter of "Kelly" and "Imported Moss". We are looking forward to training this nice female and hope she will follow in her mother and father's footsteps. "Kelly has been a real challenge to handle and train but has an unbelievable asset to our demonstrations as well as farm work not to mention her contribution to our breeding program with her offspring including "Ben". "Moss" (Imported Skip), had a great trial career for John Thomas before being retired and brought to the US by Henry Kuykendall and Lou Ann Coulter. One of his great achievements was winning the 1999 English National.
We just had the first litter of pups from her littermate, "Moss" and the pups are just the kind we like. They are very social and outgoing. They are showing interest in working stock already at a very young age. (@ 8 weeks)
Look for a link to our puppy page for available pups from this litter coming soon.


Custom Stockdogs' Maybe

"Maybe" is a daughter of "Kwik" and "Joe". She is proving to be a challenge like her dam. She shows the grit and determination we want in our dogs.


Custom Stockdogs' Abby
"Abby" is a daughter of "Magik" and Imported Coon
We have a litter of puppies now out of "Abby" and "Joe". They will be ready to go in mid July 2005. This is the 3rd time we have made this cross and the pups have always been real nice. We have a young male from this cross last year that we are real excited to begin training on stock. He is very smart and social. He started to show working instinct when he was 8 weeks old.
Kuykendall's Bandit
"Bandit" is a daughter of Imported Kate and Kuykendall's Joe. We were fortunate that Kenneth's father Henry and Lou Ann allowed us to have this great female. We wanted to bring back in some of our old lines that she goes back to and ended up with a great stylish worker too. We look forward to using her in our breeding program but for now we are enjoying training her.
Custom Stockdogs' Trace
Trace is a daughter of "Gail" and "Ben". She brings together a wonderful cross of some of our main breeding lines and we are looking forward to what she will offer us keeping our breeding lines strong in their working ability.
Trace just had her first litter this spring (2005) and we are going to retain both of the pups. We will have more pups from her in the future so watch for them. If they are like the ones we have now they should be nice.
Custom Stockdogs' Bracken
Bracken is a daughter of "Trace" and "Ben".
Bracken started her herding career early. At the age of 4 months (fall of 2005) she was used in our herding demonstrations to show herding instinct. Right from the start she showed style and power. Her official training has begun this winter and she is progressing nicely.